Getting started with your new jHost website hosting is pretty easy, but here's a step-by-step guide to kick things off right.
1. Billing Login
First off, let's familiarize ourselves with the billing portal.
To access the billing portal:
Click on "Account" at the very top of the site or go to https://jhost.co/my/
Then click the "Login" button at the top-right
Enter the email address you set the hosting account under
Enter the password you entered during checkout
Click "Login"
Once inside the billing portal, you'll see Latest Announcements, Outstanding Invoices (if any), Recent Support Tickets (if any) as well as your account details.
Across the top, you'll find the main navigation has changed. You can return to this page any time by clicking on the "Dashboard link."
That's all informational. If you click around a bit you'll find that you can get information about your hosting package by clicking on "Package"; Order services or more products from the "Order" link; Edit your profile from the "Profile" link; and submit a support ticket from the "Support" link. To logout, simply click "Logout."
There's also a link to your cPanel which is where we go next.
2. cPanel Login
We went over the billing portal in step 1, but setting up things like email, subdomains, databases and FTP accounts are all done though your cPanel.
To access your cPanel:
Click "cPanel Login" at the very bottom of our site or go to https://jhost.co/login/
Enter your USERNAME - This would have been emailed to you after your account was setup
Enter the password you entered during checkout
Click "Login"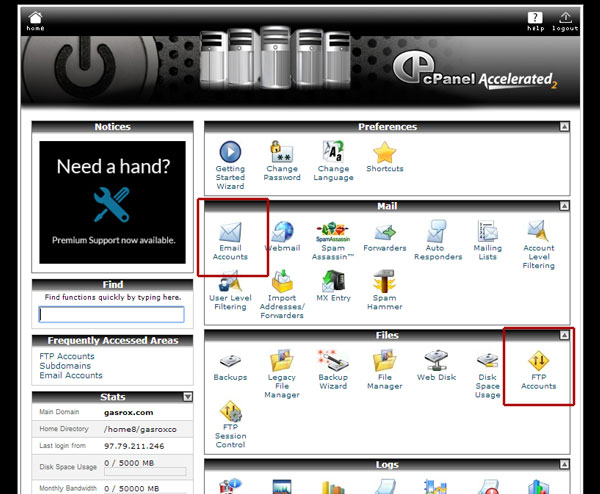 If you have any trouble logging in, just submit a support ticket and we'll help you out.
3. Setup an FTP Account
You are eventually going to need to upload and download files between your local machine and your new web hosting account. To do this, we need to setup an FTP account through cPanel.
Here's a handy article on how to setup FTP accounts. It also includes information about configuring your favorite FTP clients to use the account you just setup.
4. Setup an Email Account
It's a good idea to go ahead and setup an email account on your new hosting. Here's how. Repeat as necessary.
5. Point Nameservers
Last, but certainly not least, you'll need to point the nameservers for your domain name to jHost's servers. jHost's nameservers are (in priority order):
For more detailed information on pointing nameserver, see our support article "Pointing Nameserver TO jHost." The article also includes registrar-specific instructions for GoDaddy, eNom and 1&1.
6. Wait for it to Resolve
Re-pointing nameservers can take a little time. With jHost it's usually only about 15 minutes. You'll know things have resolved when you go to your domain (www.yoursite.com) and you see something like the screenshot below.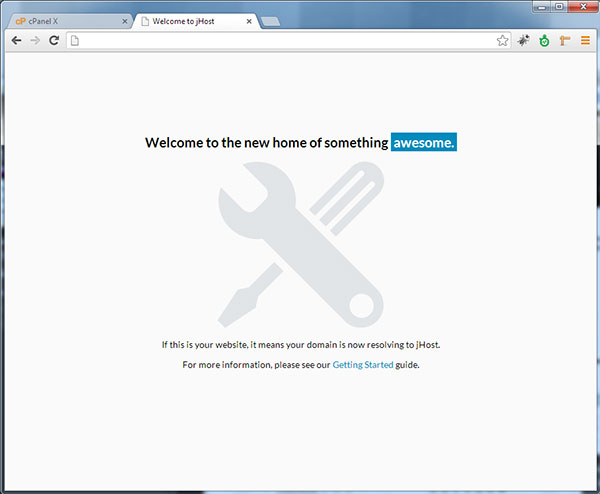 Once you see that, you know you're good to upload your website via FTP and start using your email account(s) you setup.
Up, Up and Away!
Well, that should get you going. As always, if you have any trouble, just submit a support ticket and we'll get it sorted for you.
Welcome to the jHost family!